Amarnath Yatra
Lord Shiva Amarnath Cave - Amarnath Dham Yatra
Amarnath is one of the major Hindu Dhams in India. The holy cave of Amarnath is the abode of Lord Shiva. The guardian of the absolute, Lord Shiva, the destroyer, is enshrined in the form of an ice-lingam in this cave. This lingam is formed naturally, which is believed to wax and wane with the moon.
THE HOLY CAVE SHRI AMARNATH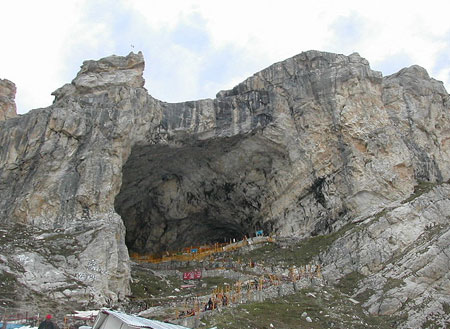 The Holy Cave of Shri Amarnath is only 6 kms from Panchtarni. As there is no place to stay hence the pilgrims start in the early hours of the morning after their stay at Panchtarni. On the way to The Holy Cave one comes across the Sangam of Amravati and Panchtarni. Some pilgrims take bath at Amravati near holy cave to become pious before going for Darshan. Near the cave is found white soil known as Bhasam. It is the most beloved soil of Shiv ji.
The pilgrims apply this Holy soil to their body and then go for Shivlingam Darshan. There are two smaller Shivlings one of Maa Parvati and other of Shri Ganesh. It may be noted that after having early Darshan of the Shivlinga at Holy Cave one can return to Panchtarni well in time the same day . Some pilgrims camp at Panchtarni while others continue their journey and reach back Sheshnag by the same evening.
Location of Amarnath Cave
Amarnath Shrine is at 3888 m, 46 Km from Pahalgam and 14 Kms from Baltal, situated in a narrow gorge at the farther end of Lidder Valley. Though the original pilgrimages subscribes that the yatra (journey) be undertaken from Srinagar, the more common practice is to begin journey at Chandanwari, and cover the distance to Amarnathji and back in five days. Pahalgam is 96 Kms from Srinagar.
Opening and Closing Dates of Amarnath Yatra
Starting Date Amarnath Yatra 2020 will be updated soon.
Last date of Amarnath Yatra will be published soon.
Legend and History of Amarnath
Centuries ago Maa Parvati asked Shivji to let her know why and when he started wearing the beads of heads (Mund Mala), to which Bhole Shankar replied, "whenever you are born I add more heads to my bead". Parvati said, "I die again and again, but you are Immortal. Please tell me the reason behind this". "Bhole Shankar replied that for this you will have to listen to the Amar Katha"
Shiv agreed to narrate the detailed story to Maa Parvati. He started for a lonely place where no living being could listen to the immortal secret and ultimately chose Amarnath Cave. In the hush-hush, he left his Nandi (the Bull which He used to ride) at Pahalgam. At Chandanwari, he released Moon (Chand) from his hair (Jataon). At the banks of Lake Sheshnag, he released the snakes. He decided to leave his Son Ganesha at Mahagunas Parvat. At Panjtarni, Shivji left the Five Elements behind (Earth, Water, Air, Fire and Sky) which give birth to life and of which he is the Lord.
After leaving behind all these, Bhole Shankar entered the Holy Amarnath Cave along with Parvati Maa and took his Samadhi. To ensure that no living being is able to hear the Immortal Tale, he created Kalagni and ordered him to spread fire to eliminate every living thing in and around the Holy Cave. After this he started narrating the secret of immortality to Maa Parvati. But as a matter of chance a pair of pigeons overhead the story and became immortal.
Shri Amarnath Shrine Board
The Shrine is managed by Shri Amarnathji Shrine Board (SASB), that was constituted by an Act of the Jammu & Kashmir State Legislature in 2000 with His Excellency the Governor of Jammu and Kashmir as its ex-officio Chairman. The Amarnathji Shrine Board is responsible for the better management of the Shri Amarnathji Yatra, upgradation of facilities for holy pilgrims and matters connected therewith or incidental thereto. Assisted by a Chief Executive Officer who is a senior IAS officer and eight distinguished Board Members, the board is constantly working towards making this journey the most cherished one.
Help Desk and Control Room
Control Room: Shri Amarnathji Shrine Board
Any person seeking information or help in regard to the forthcoming Yatra, which commences in 2020 can call 0194-2501679 or email at sasbjk2001@gmail.com. Any person wishing to make any enquiries about the Yatra arrangements can also call this Control Room/Helpline which has been set up in the office of the Additional Chief Executive Officer of the Shrine Board
Official Website of Amarnath Shrine Board: http://www.shriamarnathjishrine.com/
2020 Amarnath Yatra Registration Details:
Will be updated soon.
Accommodation During Amarnath Yatra
Insulated huts and tents are installed during the Yatra at various Camps. These are available on rentals.
How to Reach Amarnath
By Air : Srinagar is the nearest aerodrome and is well connected by air and road. There are daily flights to Srinagar from Delhi and Jammu. On certain weekdays flights also pickup passengers from Chandigarh and Leh.
By Rail : Jammu is the nearest Railway Station. Jammu Railway station is very well connected and there are lots of express trains to various towns in India.
By Road : Jammu and Srinagar are also connected through road. Buses and Taxies are available for this part of the journey. These can be hired on daily as well as on full tour basis.
Amarnath Route Map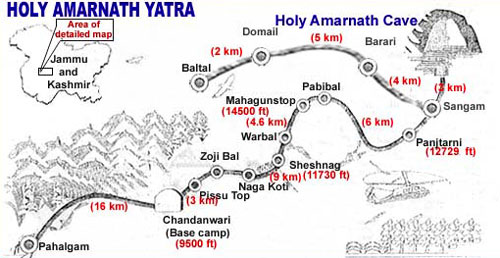 1) JAMMU – PAHALGAM – HOLY CAVE. (Traditional Route)
Jammu to Pahalgam (315 km) – The distance between Jammu to Pahalgam can be covered by Taxi / Buses. These are available at Tourist Reception Centre, J & K Govt., Raghunath Bazaar only early in the morning. But one can also come to Srinagar by air and then move to Pahalgam by road.
Pahalgam (16 kms) – Chandanwari (3kms) – Pissu Top (9kms) – Sheshnag (12 kms) – Panchtarni (6 kms) – Holy Cave of Amarnath
2) Jammu – Baltal – Holy cave (414km) (Amarnath By Helicopter)
Jammu – Baltal (400km). The distance between Jammu and Baltal can be covered by Taxis / Buses available at Tourist Reception Centre, J & K / bus stand or one can come to Srinagar by air and then reach Baltal by road. The road route followed is : JAMMU – Udhampur – Kud – Patnitop – Ramban – Banihal – KaziGund – Anantnag – Srinagar – Sonamarg – Baltal.
From Baltal Holy Cave is just 14 Kms. This distance can be covered by foot / Ponies. However, Dandies are also available for handicapped and old aged pilgrims. The width of the pebbled (kuchha) road is a bit narrow as compared to the Chandanwari-Holy Cave route, moreover , there are some steep rises & falls on the way , as compared to the Chandanwari route, but pilgrims can return back to base camp Baltal through this route only in one day.